Carpeting: Velvet (woven)
Commercial velvet carpet is one of three types of industrially woven carpets (others include Axminster and Wilton). Commercial Velvet carpet is normally cut-pile; available in a limitless range of colors, textures and patterns.

Commercial velvet carpets are elegant constructions with fine, densely packed, tightly twisted tufts. The tufts in commercial velvet carpet appear to blend together, creating a rich sweep of color that lends itself to formal settings.

When selecting commercial velvet carpeting, look for one with a low to medium pile height for the best performance and wear. You will get the most out of your investment in the long run.

Commercial velvet carpet styles will show shading, just as fine velvet fabric will do. To many people, shading lends character and richness to the carpet. It also means that velvets will tend to show vacuum cleaner marks and footprints. Commercial velvet is the simplest of all the woven carpets. Long ago, only cut pile was considered velvet carpet. Loop-pile carpets on the same loom were known as "Tapestries." Today, both cut-pile as well as loop-pile constructed on a velvet loom are called "VELVET."

A commercial velvet carpet loom is almost the same as the Wilton loom mechanism. Almost all of the face yarn is in the surface of the carpet, not hidden in the back. Unlike, the Wilton, normally there is only one row of face yarns between the warp backing yarns. The bulk of a carpet such as this comes from the backing yarns and latex coating unlike the hidden yarns in a Wilton.

The leading quality factor in this carpet is the pile density. This is achieved by specifying a number of wires per inch (pitch) or a heavy yarn weight. Today's velvets commonly have a 162 or 189 or a 216 pitch and will vary from 7-10 wires per inch. Almost all will be a two weft shot per wire.

Advantages:
Simplest loom of the three
Mostly dominated by solid colors, but multicolor and multi-texture effects are becoming more widespread
Service quality is achieved with pile density (high pile density can be achieved by specifying high pitch or a heavy yarn weight)

Brand Overview
---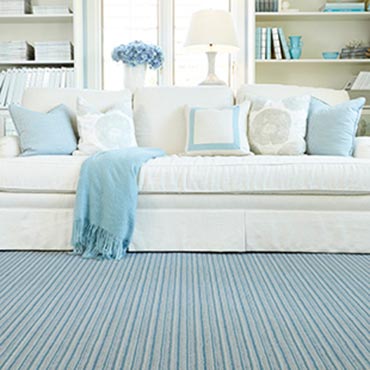 ---
Profile
|
Website
With a rich history of artisan craftsmanship and innovative design, Rosecore's exquisite floorcoverings enhance exclusive interiors around the world. Roscore produces a number of prominent Collections including Supreme Bliss from the Supreme Collection, which energizes any room with its elegant patina and palette of soft neutrals.